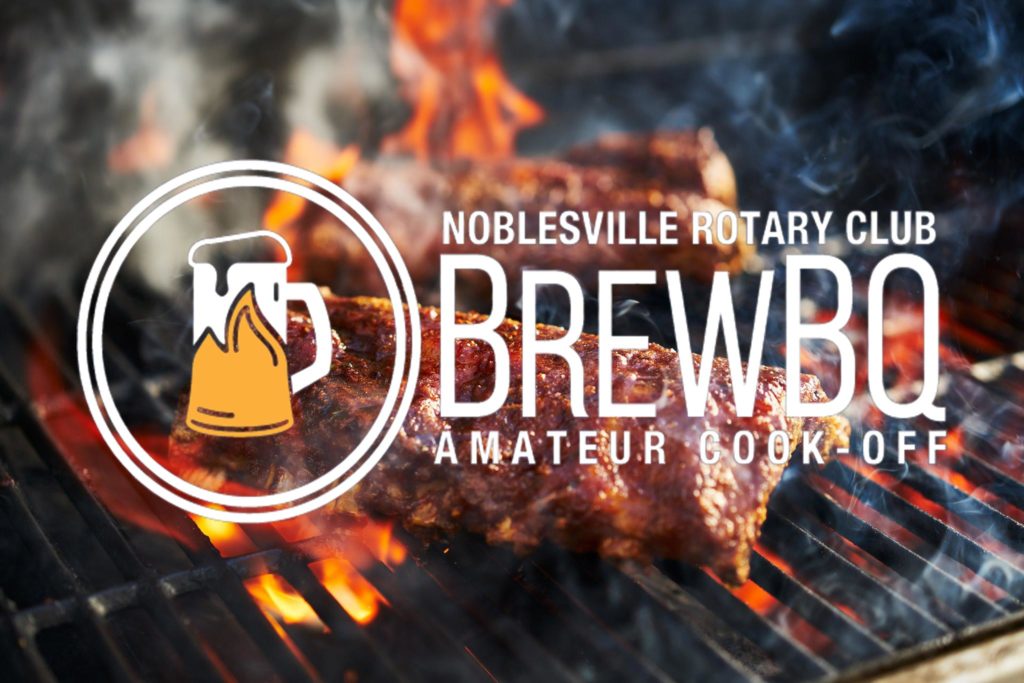 Noblesville Rotary Club 7th Annual BrewBQ
Noblesville, Indiana — "We're excited to formally announce the 7th annual Noblesville BrewBQ to be held on Saturday, August 19th at Federal Hill Commons! This is a fun charitable event that allows the community to come together to support a great cause, while also sharing their love of BBQ and beer," said Carrie Dixon, President of the Noblesville Rotary Club.
The Purpose: This is not just a fun event for the community to enjoy the outdoors and music. Proceeds go to supporting local students who attend Ivy Tech Noblesville Campus with scholarship funds. There are not many scholarships available to students in technical fields of study. We are passionate about providing opportunities in these fields especially with Noblesville's focus on economic development. "We are so thankful for our partnership with the Noblesville Rotary and grateful for their support. The BrewBQ is a great event to support their efforts of providing scholarships for local students to attend IVY Tech. We are thankful for the long-standing relationship that the Noblesville Rotary has experienced with IVY Tech and look forward to many continued years," said Stacy Atkinson, Chancellor for Ivy Tech Hamilton County.
Details: The BrewBQ holds a BBQ tasting contest with an opportunity for attendees to taste some of the best BBQ around. The contest will feature an immense array of unique recipes, from BBQ'ers across Noblesville and Indiana alike. Music throughout the evening will be from local bands with returning Headliner- That's What She Said from 7-9:30PM.    Beer will be on tap from several local vendors. The Bier Brewery will be back this year and has won multiple medals at prestigious brewing competitions, including The Indiana Brewers' Cup, the Great American Beer Festival, and the World Beer Cup.
We are excited to announce that Primeval Brewing in Noblesville is a new addition to the event this year! "We love being part of the community and are super excited to be able to serve beer this year at the Rotary Clubs's BrewBQ! Beer and barbeque pair so well together that this will be a wonderful combination to bring together," said Primeval Owner Tim Palmer. Another return for Upland Brewery with brews so good they ran out and had to run for more! For those who enjoy wine, Spencer Farms Winery will be returning this year.
Sponsorships: "The entire Associated Drywall Partner's crew is proud to support Noblesville Rotary and this year's BrewBQ event! Great Music, mouthwatering BBQ and craft beer, what could be better on an Indiana summer evening?" said Joe Carnavale with Associated Drywall Partners – Co-Title Sponsor. The UPS Store returns as the other Co-Title Sponsor! Other committed sponsors include Onieal and Associates Financial, Meyer-Najem Construction, USI Consultants, Porter Roofing and Restoration, Talk To Tucker – Andy Liechty & Associates, Bell Techlogix and more. We are still accepting sponsorships and are a 501(c)3 charitable organization.
Noblesville Rotary Club BrewBQ Event Information
Saturday, August 19th from 4-10pm at Federal Hill Commons
For those interested in participating in the cook-off, registration is available by clicking the 'Contestant Registration' link below.
Tickets: Advance tickets are available for $55 each and designated driver tickets are available for $40. Tickets will also be available for $65 at the gate on the day of the event. Tickets include unlimited beer, wine, and BBQ from 4PM-10PM. The designated driver ticket features water and soda instead of beer. Tickets can be purchased using the 'Buy Tickets Now' link below.
FAQs
Are there ID or minimum age requirements to enter the event?
Must be 21 with valid ID to attend. (Guests under 21 will not be permitted inside the gate)
How can I contact the organizer with any questions?
Email Carrie Dixon: [email protected]
Also follow the Facebook page for event updates, promotions and access to the ticket link– Search 'Noblesville BrewBQ' on Facebook and Like our page http://www.facebook.com/noblesvillebrewbq
What's the refund policy?
Since this is a fundraising event to benefit students attending Ivy Tech Community Hamilton County Campus, tickets are non-refundable. Rain or shine.
What should I bring to the event?
Bring a valid photo ID if you're planning on consuming alcoholic beverages. You may also bring lawn chairs to the event.
What can't I bring to the event?
Coolers, outside food or beverages.
What kind of beer will be served at the event?
Beer and wine will be provided by The Bier Brewery, Sun King Brewery, Four Day Ray, Spencer Farms Winery & Black Hawk Winery!
How will the BBQ contestants be judged?
Judging will be by a panel utilizing a blind judging method as well as an award for people's choice ribs and people's choice chicken. For the people's choice voting, each ticket holder will receive five complimentary raffle tickets at the gate to use in voting for their favorite BBQ. More will be available for purchase with the funds going toward the scholarship fund.
For those interested in participating in the BBQ cook-off competition, registration is available by completing the form link below.
About The Noblesville Rotary Club
The Rotary Club of Noblesville was formed in 1955 to contribute to the Noblesville and Cicero communities. The club has directly impacted the local community over the years – most recently starting a scholarship program for Ivy Tech Community College, sponsoring exchange student cultural programs, children's literacy initiatives and assisting the Noblesville parks department in various programs. The Rotary Club of Noblesville also regularly welcomes distinguished speakers on a variety of topics.